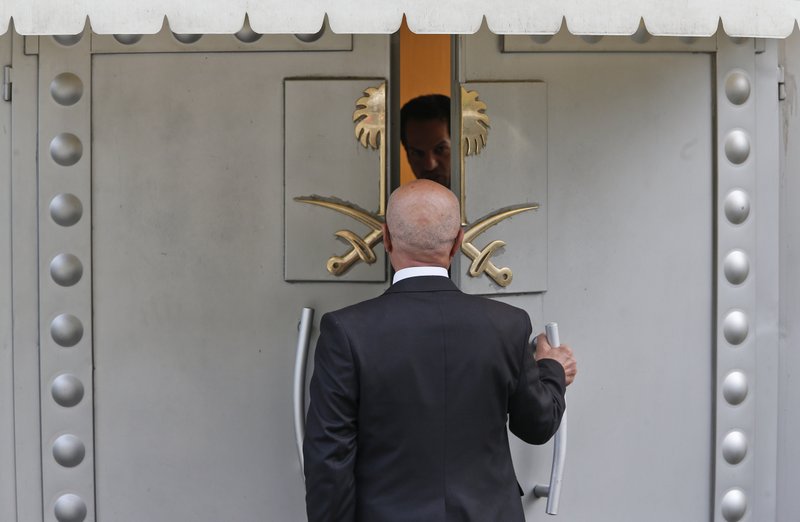 ISTANBUL (AP) — The Latest on the killing of Saudi writer Jamal Khashoggi, a Washington Post columnist who vanished after entering the Saudi consulate in Istanbul earlier this month (all times local):
8:45 a.m.
Amnesty International says the "impartiality" of a Saudi investigation into the killing of Jamal Khashoggi would remain in question after authorities in the kingdom said the journalist died after a fight in the consulate in Istanbul.
Amnesty's Rawya Rageh says early Saturday the rights group and other organizations have been very clear that what is needed is "an impartial and independent investigation by the U.N. to find out what happened and ensure justice" for Khashoggi.
She said rights groups have been concerned of a "whitewash" in the investigation.
Khashoggi disappeared after visiting the Saudi consulate in Istanbul on Oct. 2. Saudi authorities say a fight broke out in the consulate after which Khashoggi died.
___
8:10 a.m.
Saudi Arabia claims Saudi journalist Jamal Khashoggi died in a "fistfight" in the Saudi Consulate in Istanbul, finally admitting that the writer had been slain at its diplomatic post.
Authorities say 18 Saudi suspects were in custody and intelligence officials had been fired.
The overnight announcements in Saudi state media came more than two weeks after Khashoggi, 59, entered the Saudi Consulate in Istanbul for paperwork required to marry his Turkish fiancée, and never came out.
They also contradicted assertions in Turkish media leaks that Khashoggi was tortured, killed and dismembered inside the consulate, claims the kingdom had rejected as "baseless."
But growing international pressure and comments by U.S. officials up to President Donald Trump forced the kingdom to acknowledge Khashoggi's death.