Nevada Republicans whip up fears of California's influence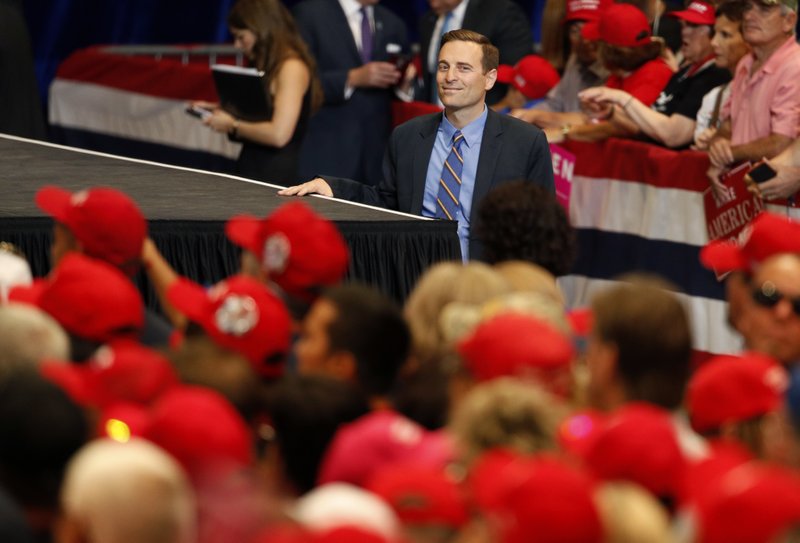 LAS VEGAS (AP) — The Republicans running in Nevada's hotly contested races for governor and U.S. Senate are taking aim at a common target as they try to maintain GOP control of the seats: California.
As more Californians have poured across the state line over the past few years, many of them escaping sky-high housing costs, some Nevada Republicans fear a state that already has become a political battleground will begin to resemble its deep blue neighbor.
GOP candidates are appealing to conservative voters with warnings about life in California: sanctuary cities, crippling business regulations, out-of-control housing prices and a worsening homeless crisis.
Republican Sen. Dean Heller, who is in a tight re-election battle against Democratic Rep. Jacky Rosen, has highlighted his opponent's support from California billionaire Tom Steyer and Hollywood celebrities, while warning on Twitter that the state could become "CaliforNevada" if Rosen is elected.
Politicians on the right have for years demonized California as a conservative's worst nightmare. In 2003, as a joke, a Republican state lawmaker in Nevada requested a bill be drafted to rename the state "East California," along with making The Beatles' song "Taxman" the official state song.
The California-bashing takes on added weight in Nevada, which has seen a greater-than-normal wave of Californians recently as housing prices and rents have soared in the Golden State. At the same time, transplants from Silicon Valley have followed Tesla, Apple and other California-grown companies as they have expanded in the Reno area.
This year, with California emerging as a political bulwark against the Trump administration, the state has become a political bugaboo for conservatives around the country. They paint it as a cautionary tale of taxes, regulation, environmentalism and illegal immigration run amok.
In Georgia, Republican candidate for governor Brian Kemp has cast his Democratic opponent, Stacey Abrams, as a tool of "billionaires and socialists who want to turn Georgia into California." Texas Gov. Greg Abbott this summer declared that "California appears to have raised the leadership in the United States of America for socialism."
The Republican State Leadership Committee, which works on electing Republicans to state offices around the country, declared in a campaign email that California has turned into a "liberal wasteland" of "garbage-strewn streets, never-ending tax increases, and lax immigration laws" that Democrats would replicate if they took control of state legislatures.
In Nevada, California has become a special source of angst.
Californians have long made up at least one-third of new residents to Nevada, but this year are on track to comprise 40 percent of new residents, according to drivers' license data from the Nevada Department of Motor Vehicles.
That influx comes as Nevada has been trending more Democratic in its politics over the last decade, swinging for the Democrat in the past three presidential elections and giving Democrats full control of the Legislature in 2016 — the first time since 1992.
It's unclear whether the latest California influx will move the state firmly into the Democratic column this November.
Nevada's races are at the center of the political universe again this year: The U.S. Senate race is a pivotal one for determining whether Republicans maintain control of that chamber, and whichever party wins the governor's seat will have veto power over legislative and congressional redistricting following the 2020 Census.
"A lot of people left California because of what they didn't like, but then they got to Nevada and said, 'Oh, in California, we had this. Oh, in California we had that.' The things that they left, they want to bring here," said Chuck Muth, a conservative activist and blogger in Las Vegas.
"I think everybody has known about it, but now the candidates at the top of the Republican ticket are actually making a campaign issue out of it."
In the governor's race, Nevada's Republican attorney general, Adam Laxalt, has frequently included anti-California messages in campaign appearances and statements, even when endorsing other candidates.
Laxalt cites sanctuary cities and burdensome regulations as ill-considered California policies that Nevada should avoid.
"Do you think it should be a crime in a restaurant to give you a straw when you're trying to have a drink? How about cancer warnings on your coffee?" Laxalt said at a campaign appearance in May. "These are things we're seeing in our neighbor, California. These are the things I'm willing to fight against so Nevada does not become like California."
He told The Associated Press that while there's a concern that Californians moving to the state could import liberal politics, he meets new Nevada residents "all the time that have decided that they're utterly fed up with California" and "a lot of the just really extreme liberal policies that continue to flourish in that state."
He said his main worry is that Nevada progressives will see California as a model.
He cited the 2017 session of the Democratic-led Legislature as an example of the state "going the way of California." Republican Gov. Brian Sandoval, a moderate, nearly set a state record by vetoing 41 bills.
___
AP writer Paul Weber in Austin, Texas, contributed to this report.
___
Follow Michelle Price at
https://twitter.com/michellelprice
___
This report is part of a series on how California's struggles with soaring housing costs, job displacement and a divide over liberal policies are affecting the November election.