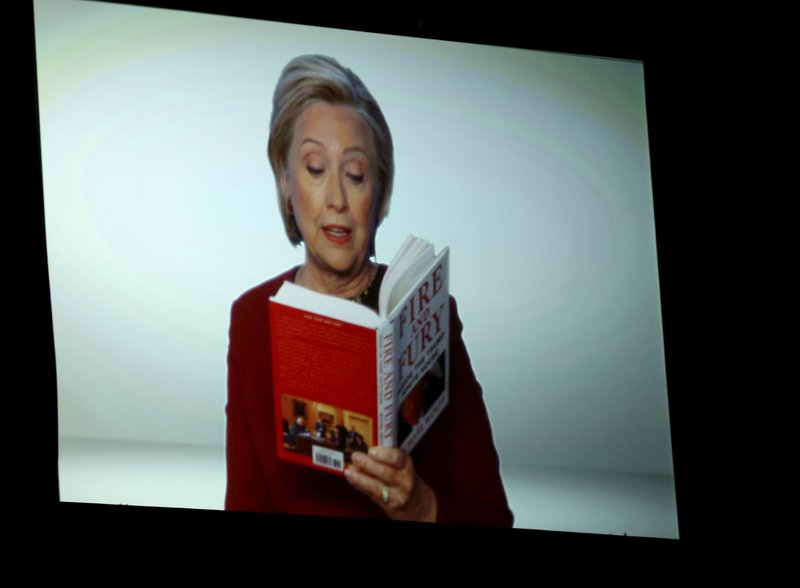 NEW YORK (AP) — One-time Grammy winner Hillary Clinton made it back to the awards show Sunday night in a role she no doubt relished.
She was a surprise guest in a skit by host James Corden, supposedly auditioning for the spoken word recording of Michael Wolff's best-seller on President Donald Trump's administration, "Fire and Fury."
She followed John Legend, Cher, Snoop Dogg, Cardi B and DJ Khaled, all of whom Corden found wanting. The final "auditioner" lowered the book from in front of her face to reveal it was Clinton. Corden said she got the job and was a sure winner.
"You think so?" Trump's 2016 election opponent said. "The Grammy's in the bag?"
Clinton is already a Grammy winner from 1997, for reading her book, "It Takes a Village."
Not everyone was a fan of the moment. United Nations Ambassador Nikki Halley tweeted that the moment ruined the Grammy-watching experience for her.
"I have always loved the Grammys but to have artists read the Fire and Fury book killed it," she tweeted. "Don't ruin great music with trash. Some of us love music without the politics thrown in it."
It wasn't the only political moment at the awards show. Like the pre-recorded skit with Clinton, all were meticulously planned.
Three country artists who were on the bill at the country music festival that was the site of a mass shooting in Las Vegas in October joined to sing a somber version of Eric Clapton's "Tears in Heaven." Eric Church, Maren Morris and the Brothers Osborne performed before a backdrop with the names of shooting victims.
Singer Janelle Monae spoke up for women's rights in an introduction to Kesha's performance of her song "Praying," which is about fighting back against mistreatment. Kesha accused her former producer, Dr. Luke, of sexual assault. The charges were later dropped, but Kesha's song was an obvious reference to her battle, and she was joined by about a dozen other women singers backing her up.
"To those who would dare try to silence us, we offer these words: 'time's up,'" Monae said.
Rapper Logic led a song calling attention to a suicide prevention hotline, joined by Alessia Cara and Khalid. "Black is beautiful, hate is ugly," he said at the song's conclusion.
Singer Camila Cabello, a Cuban-Mexican immigrant brought to the United States as a child, spoke in favor of legal protections for so-called "dreamers."
"This country was built by dreamers for dreamers," said Cabello, who introduced the rock band U2. In a pre-recorded performance of their song "Get Out of Your Own Way," U2 was on a barge in the New York harbor with the Statue of Liberty in the background.