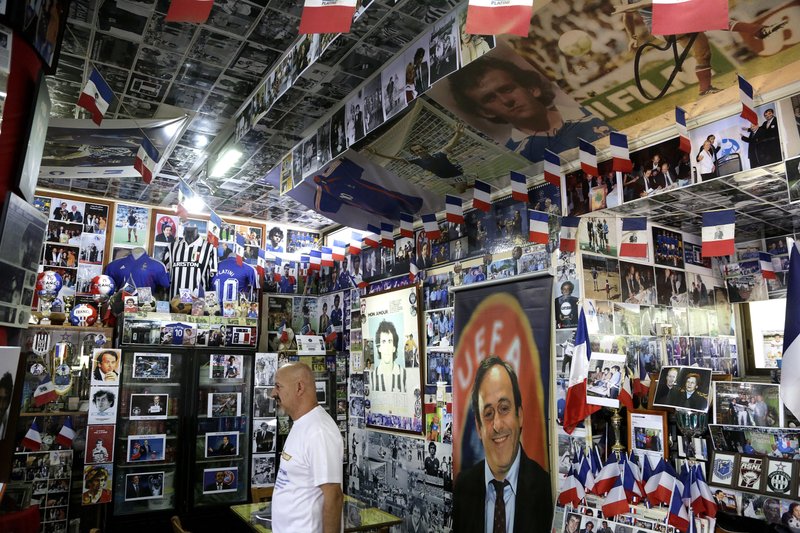 MOSFILOTI, Cyprus (AP) — Michel Platini's No. 1 fan lives in Cyprus.
The Guinness World Records has made it official.
A Cypriot man who idolizes the French soccer great has clinched two entries in the annual book for his stash of photos, jerseys, shoes, balls and more centered on Platini.
The Guinness Book credits Philippos Stavrou Platini, who legally changed his name to add the Frenchman's surname, with the largest collection of football memorabilia, and the largest collection of sporting memorabilia.
The 40,669 items adorn the "Museum of Platini" that doubles as a kebab shop in the evenings in this sleepy inland village.
The shop is plastered with Platini's image wall-to-wall. There are photos of him as an infant, as a young player sporting a shock of curly hair, and as the middle-aged boss of UEFA.
The centerpiece is the official UEFA suit Platini wore for years as president at official functions. Platini gave the suit to his 55-year-old admirer as a gift in 2010, a year after visiting.
Among Stavrou Platini's other treasured items are more than a dozen jerseys that the Frenchman signed himself, from his former teams Nancy, St. Etienne, and Juventus, as well as a pair of UEFA banners — one of which is also signed.
A quirky piece of memorabilia that Stavrou Platini keeps locked in a glass encasement along with a Platini-signed 1984 World Cup replica ball is the tea cup and saucer the Frenchman drank during his visit.
"Craziness is a beautiful thing because my craziness gives me life," Stavrou Platini says. "I don't care what anybody says, I'll be collecting about Platini as long as I'm alive and I hope that my children, my son and daughter, will continue adding to this collection."
Stavrou Platini's fascination with the Frenchman began when, as a young soccer player himself, he was given the nickname "Platini" because he would often stand on the field with his hands on his hips, just like his idol used to.
After three decades and hundreds of thousands of euros spent building the collection, he says he has set his sights on acquiring 50,000 memorabilia items.
A failed bid at the record four years ago served only to strengthen Stavrou Platini's resolve to become the king of Platini memorabilia.
Platini is suspended from football for four years, for a conflict-of-interest payment of about $2 million from Sepp Blatter, but that hasn't diminished the Cypriot's adoration for the former.
Stavros Platini blames Platini's adversaries.
"Simply, Platini no longer benefited the big guys, it was a huge plot to get rid of Platini," he says. "But whether they want to believe it or not, Platini is a soccer legend and will always remain a legend."