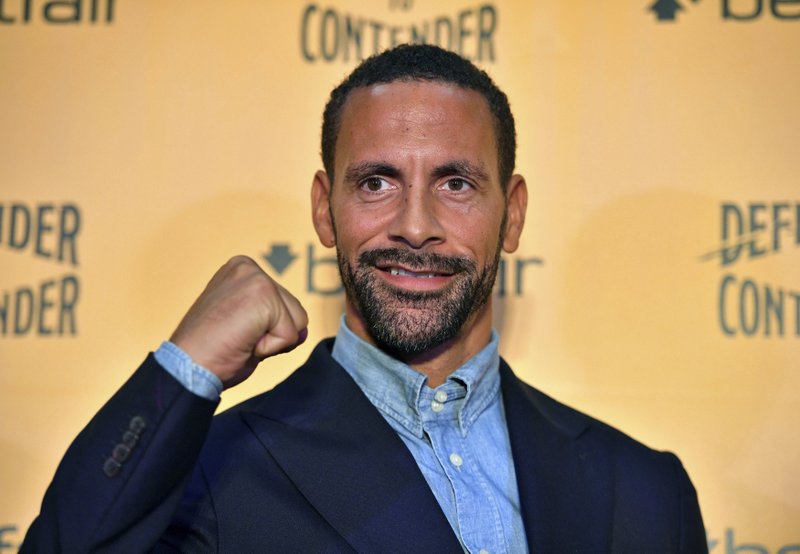 LONDON (AP) — When Rio Ferdinand hung up his boots two years ago, a career competing in sports appeared over.
Coaching jobs weren't considered. Only television punditry kept the former Manchester United and England captain in soccer.
There was still something missing for Ferdinand in retirement. Leaving the field, didn't dim his competitive streak. The former defender was missing an outlet to channel the aggression that helped him win every major honor with United.
Ferdinand has found it. At 38, he is planning an unlikely transition to become a professional boxer.
"It's a chance to really get my competitive juices flowing again," Ferdinand told The Associated Press. "I really do miss that."
There are financial benefits, too. Ferdinand is being bankrolled by a bookmaker whose branding was plastered over the backdrops at Tuesday's announcement.
"I don't look at this as a circus," Ferdinand told the media inside York Hall, a shabby but renowned east London boxing venue. "I'm not trying to disrespect anyone. I'm taking it seriously."
It is no stunt, Ferdinand maintained, despite the links to a betting company renowned for often tasteless stunts.
There is, however, no prospect of Ferdinand entering the ring soon. A professional license is yet to be granted by the British Boxing Board.
"I've got the utmost respect for the boxing fraternity and I'm not saying I'm going to be a world champion," Ferdinand said. "I'm saying there are loads of hurdles to get over and I'm going to meet them head on."
Since his wife Rebecca died of breast cancer in 2015, Ferdinand has three children to bring up.
"They just said, 'Dad, don't get knocked out,'" Ferdinand said in an interview. "I've got to maintain that respect once I walk through the front door. So I'll be doing everything I can do not to get knocked out."
That was the concern raised by Curtis Woodhouse, a former Sheffield United midfielder who went on to win the British light-welterweight title.
"My advice to Rio would be show the game the respect it deserves," Woodhouse tweeted, flagging up the dangers of boxing. "This is no joke, you can die 'playing' boxing."
Ferdinand, who is aiming to fight at cruiserweight, realizes that.
"I've accepted the challenge based on many nights thinking about what the potential downfalls are," he said in response to Woodhouse's comments. "But I want to go in there and give it a real good shot."
For now, there is a three-month training regime to get there. Ferdinand will be working on his technique and conditioning with former WBC super-middleweight champion Richie Woodhall, who has been involved with Britain's Olympic team.
"I wasn't that interested (in being the trainer), when they said it was going to be a retired footballer, in their 30s," Woodhall said. "But then when they said it was Rio, that changed my mind. I've always admired his attitude and his healthy living.
"He'll be a fairly small cruiser, in terms of the weight. He's tall and rangy."
___
Rob Harris is at
www.twitter.com/RobHarris
and
www.facebook.com/RobHarrisReports