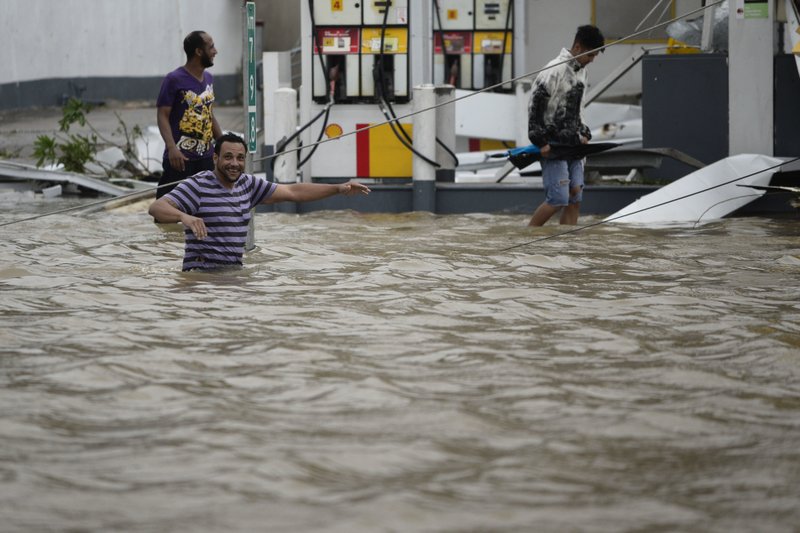 Your daily look at late-breaking news, upcoming events and the stories that will be talked about today:
1.
WHERE HURRICANE MARIA IS HEADING
The strengthening Category 3 storm is lashing the northeastern Dominican Republic and is expected to pass near the Turks and Caicos later in the day after causing damage, flooding and island-wide outage in Puerto Rico.
2.
WHO IS SYMBOL OF DEVASTATING MEXICO QUAKE
A young girl trapped in her collapsed school is driving rescuers to work at dozens of wrecked buildings looking for survivors of the magnitude 7.1 temblor that killed 245 people.
3.
CONGO DEEMED EPICENTER OF PEACEKEEPING ABUSES
The central African nation is home to more than 700 of the some 2,000 sexual allegations against U.N. peacekeepers and personnel worldwide since 2004, an AP probe finds.
4. SATELLITE IMAGES ILLUSTRATE ROHINGYA PLIGHT
Before-and-after imagery from DigitalGlobe released exclusively to the AP show refugee camps in Bangladesh growing dramatically since minority Muslims began fleeing attacks in Myanmar.
5.
SEC REVEALS CYBER BREACH
The U.S. government agency says hackers infiltrated its EDGAR filing system and the attack may have provided the basis for some illegal trading in 2016.
6.
WHAT EMAILS SAY MANAFORT DID
Trump's one-time campaign chairman offered "private briefings" to a Russian billionaire who the U.S. government says is close to Putin, but Manafort's spokesman says no briefings ever occurred.
7.
'TWO-STATE SOLUTION' PROSPECTS DIMMING
Palestinians are increasingly questioning their leaders' strategy of reaching statehood through negotiations with Israel after more than two decades of failures.
8. THE ATM TURNS 50
Ubiquitous now, but revolutionary then: automated teller machine's debut a half century ago trained people to interact with kiosks.
9.
PRESS 'SURPRISED FACE'
The Japanese creator of the first emoji wanted to add nuance to mobile phone messages and never imagined his 1999 work would become a global phenomenon.
10.
MEET THE 'NEXT ONE'
Michigan's Emoni Bates is the best 13-year-old basketball player in America and AP has been granted behind-the-scenes access to follow his progress.