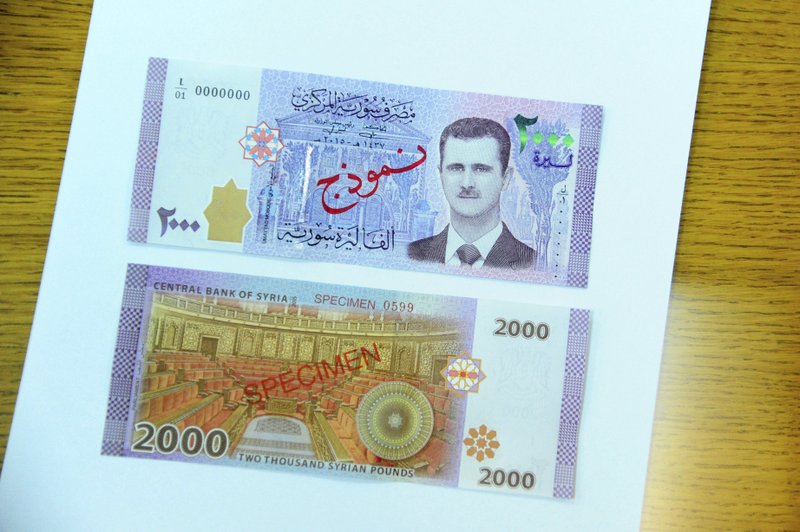 DAMASCUS, Syria (AP) — The Latest on the conflict in Syria (all times local):
7 p.m.
The Syrian Central Bank has announced that a new 2,000 Syrian Lira bank note ($3.9) will go into circulation. The notes are the first time the face of President Bashar Assad appears on the Syrian currency since he took office 17 years ago.
Assad's face appears on the new banknotes at a time when his government is boasting military successes against the armed rebellion around Syria. The currency previously only carried images of historic icons or pictures of his father, Hafez Assad.
Central Bank Governor Duraid Durgham said the new bank notes will go into circulation starting Sunday "due to the wear and tear" affecting currency currently in circulation.
Syria's currency has crashed as the country's seven-year-long war rages on. Trading at 47 liras to the dollar in 2011, it's currently going for 517 liras to the dollar.
___
5:45 p.m.
U.S.-backed Syrian fighters say they have received new troop reinforcements to boost their ranks as they keep up their pressure against Islamic State militants holed up in Raqqa city.
Syrian Democratic Forces' media office says Sunday nearly 1,000 fighters have joined the western and eastern fronts of the battle against IS in Raqqa, the extremist group's de-facto capital and one of their largest major holdouts in Syria. Footage posted by activists shows a convoy of vehicles carrying dozens of cheering fighters as they head toward the city's various fronts.
The campaign against Raqqa, backed by airstrikes from the U.S.-led coalition, began on June 6. Islamic State militants have put up a tough fight, but the SDF has advanced on several fronts, seizing a number of neighborhoods.
___
4:15 p.m.
Syrian officials claim to have foiled a plot to target crowded areas during the first morning commute after a Muslim holiday, but a suicide car bomber was still able to kill at least eight people and wound 12.
Syria's Interior Ministry says security forces tracked three cars loaded with explosives as they headed toward central Damascus on Sunday. Two of the cars were intercepted at checkpoints on the airport road and detonated. The third made it into the city center, where the driver blew himself up near Tahreer Square.
The Syrian Minister of Local Administration, Hussein Makhlouf, said the response marked a "major success in foiling a plot" to cause mass casualties.
The attack came on the first full work day after the Eid al-Fitr holiday marking the end of the fasting month of Ramadan.
___
10:30 a.m.
Syrian state TV says at least eight people have been killed and 12 wounded in a series of car bomb explosions in Damascus.
A suicide attacker blew himself up early Sunday after being surrounded by security forces. State media says the security forces intercepted the two other car bombs, suggesting they were controlled explosions.
Footage on state media showed damaged buildings and scorched vehicles.
Such attacks have been relatively rare in Damascus, the seat of power for President Bashar Assad. Pro-government forces have been fighting to drive rebels from Ain Terma, one of their last strongholds in the Damascus suburbs.
___
9:15 a.m.
Syrian state TV says a series of car bomb explosions have rocked the capital, resulting in multiple casualties.
It says a suicide car bomber struck near Tahreer Square in central Damascus early Sunday, and that two other bombs went off after security forces chased other attackers. It was not immediately clear if the two explosions were caused by suicide bombers or detonated by security forces.
Such attacks have been rare in Damascus, the seat of power for President Bashar Assad.