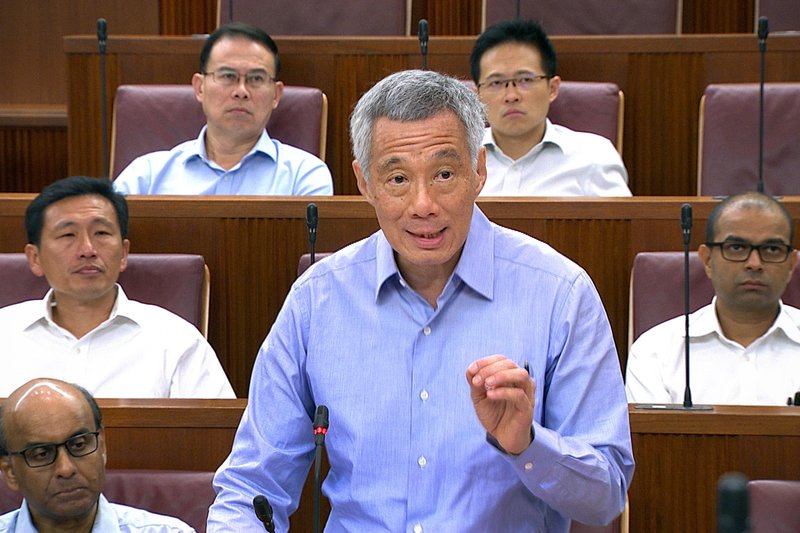 SINGAPORE (AP) — Singapore's prime minister addressed his unusually public family feud in Parliament on Monday, saying his siblings' accusations that he had misused government power were "entirely baseless."
But Prime Minister Lee Hsien Loong said he would not sue his brother and sister over the dispute, which centers on claims of bullying, nepotism and the legacy of their father, Singapore founder Lee Kuan Yew.
The rare political spectacle has riveted Singapore, with people standing in line to enter the Parliament's public gallery on Monday.
Business executive Lee Hsien Yang and Dr. Lee Wei Ling, a well-known neurosurgeon, have accused their brother of using the "organs of the state" against them to preserve a house belonging to their father, who died in 2015. His seventh and final will indicated a family bungalow should be demolished once his daughter moves out.
Dr. Lee and her brother have claimed that the prime minister secretly wanted the house preserved to "inherit the faith Singaporeans had in Lee Kuan Yew through the visible symbol of the house."
They alleged that their brother lobbied a government committee and that his wife, Ho Ching, improperly obtained artifacts belonging to their late father. They also said that the prime minister and his wife wanted their son, Li Hongyi, to have a political career.
Lee Hsien Loong called the allegations "entirely baseless" and said they could affect Singaporeans' confidence in the government.
Under "normal circumstances," he said, he would have sued over the allegations.
"But suing my own brother and sister in court would further besmirch my parents' names. At the end of the day, we are brothers and sister, and we are all our father's children," he said.
He also took aim at the idea that the family home "enhances my aura as prime minister."
"If I needed such magic properties to bolster my standing after 13 years as prime minister, I must be in a pretty sad state," he said.
His father, a self-proclaimed authoritarian, led Singapore for more than three decades and is credited with transforming the resource-poor island into a wealthy, bustling financial hub with low crime and almost zero corruption. But he also jailed some political rivals without trial for decades and brought defamation lawsuits against journalists and opposition politicians, which chilled dissent.
Lee Hsien Loong is the secretary-general of the People's Action Party, which has led Singapore since independence in 1965. It holds 83 out of 89 seats in Parliament.
Low Thia Kiang, leader of the Workers' Party, which holds all six opposition seats in Parliament, said the family dispute is a distraction for the government and should be handled in court.
"Settling this in court would enable everyone to put forward their sides of the story with evidence and with dignity," he said.