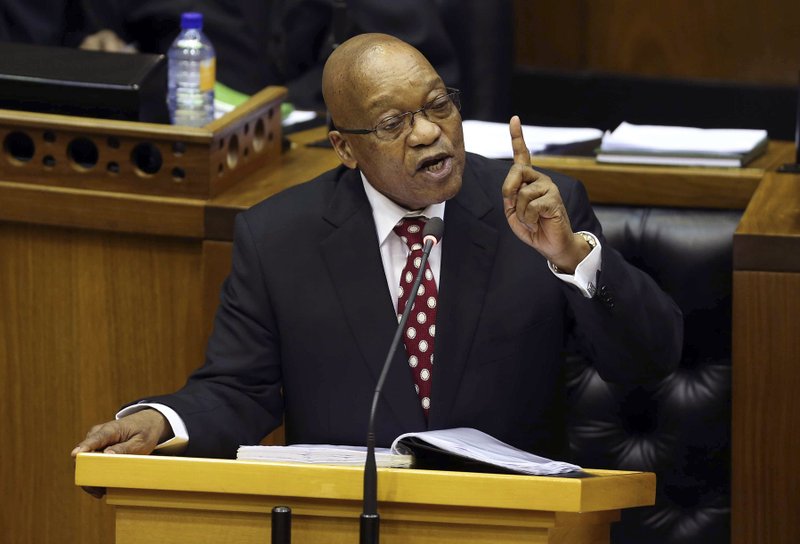 JOHANNESBURG (AP) — South African President Jacob Zuma on Thursday sparred with opposition lawmakers in a parliamentary debate over presidential scandals and an economy in recession, laughing dismissively at criticism and declaring of his job performance: "I'm fit and I'm doing it very well."
Zuma also disparaged opposition calls for a secret ballot to be used in a parliamentary motion of no confidence against him, hours after South Africa's highest court said it was up to the speaker of parliament, a ruling party member and Zuma ally, to decide how the vote should be implemented. The opposition wants a secret ballot in the belief that ruling party lawmakers could turn against Zuma if their votes are not publicly disclosed and they have less fear of reprisals.
"Why are you trying to get a majority you don't have by saying 'secret ballot,'" Zuma said. "I think it's not fair ... Let us vote the way we have been voting all the time."
The president, who has faced calls for his resignation even from within the ruling African National Congress, said already there had been seven motions of no confidence against him and that he expected several more such opposition-sponsored votes by the end of the year.
Key factions of the ruling party have maintained support for Zuma despite unease over his firing of a widely respected finance minister in March, ties to a business family accused of trying to manipulate government leaders and state companies for financial gain and the ensuing economic fallout, including credit rating downgrades.
"The ANC elected me to be the president," Zuma said. "The day the ANC — it thinks I can't be the president — it will remove me."
Some past parliamentary sessions have become unruly, particularly when members of the opposition Economic Freedom Fighters, or EFF, interrupted and insulted Zuma and were dragged out of the chamber by security guards. The EFF boycotted the session on Thursday in a protest against the president, leaving less combative parties, including the Democratic Alliance, to question Zuma and occasionally heckle him.
The Democratic Alliance leader, Mmusi Maimane, criticized Zuma for alleged corruption and mismanagement as well as an official unemployment rate of more than 27 percent.
"Your presidency has failed South Africa's youth," said Maimane, who also highlighted opposition allegations of nepotism that has benefited the business interests of Zuma's son Duduzane. Zuma said there was no evidence that he had inappropriately helped his son.
"You are doing your job. I respect that," Zuma said with a smile to another opposition lawmaker who spoke against him.
___