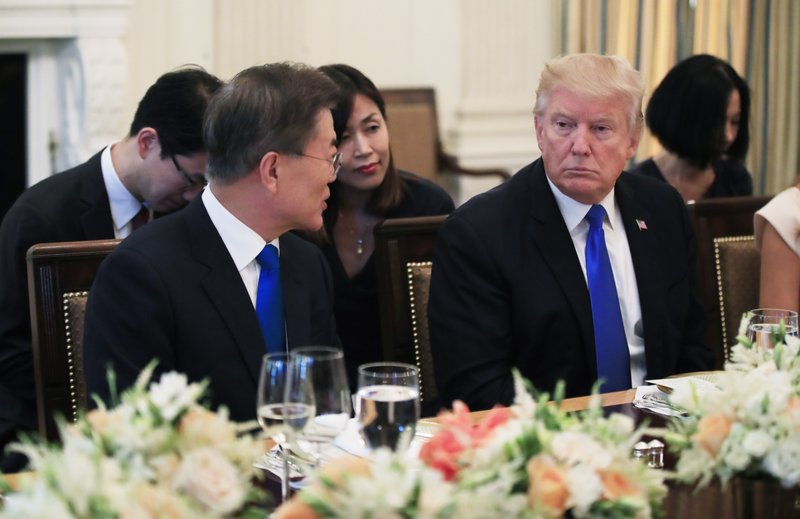 WASHINGTON (AP) — South Korea's new leader dined with President Donald Trump at the White House on Thursday as part of an effort to reassure Washington that he will coordinate closely on dealing with the North Korean threat.
Trump said at the start of a formal dinner with South Korean President Moon Jae-in that they would discuss North Korea and trade over two days of meetings. The South Korean leader has sought to make clear to the U.S. that he is serious about dealing with his neighbor's threat, despite having long advocated engagement with North Korea to address its nuclear weapons development.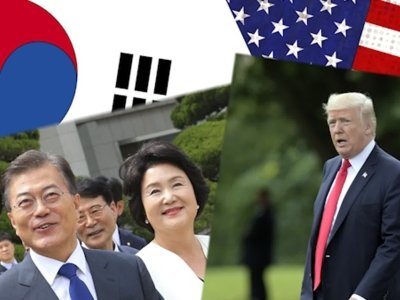 "I know you've been discussing with our people some of the complexities of North Korea and trade and other things, and we'll be discussing them all as we progress," Trump told Moon in the State Dining Room. "And it could be very well late into the evening."
Moon's position could cause strains with Trump, who wants to step up economic pressure and further isolate the North diplomatically.
The U.S. and South Korea want to show they are on the same page as concern deepens over North Korea's technological progress toward a nuclear-tipped missile that could strike the continental U.S., and its lack of interest in negotiations aimed at dismantling its atomic arsenal.
"We have a lot to work together for," Republican Speaker Paul Ryan said as top House lawmakers sat down with Moon on Capitol Hill before the White House visit. "We have shared concerns such as threats posed to both our nations from North Korea."
Moon began his four-day visit, his first overseas trip since taking office last month, with a powerful symbolic show of his personal commitment to the U.S.-South Korean alliance.
He laid a wreath Wednesday at a memorial to Marines who fought in one of the fiercest battles of the Korean War, where a rearguard U.S. action enabled a mass evacuation of Korean civilians, including Moon's parents.
Moon pledged to stand firmly with Trump. "Together we will achieve the dismantlement of North Korea's nuclear program, peace on the Korean Peninsula and eventually peace in Northeast Asia," he said.
Moon's conservative predecessor, who was impeached in a bribery scandal, took a hard line toward North Korea. Moon has sought to allay concerns that his softer stance could open fissures with Washington. He says sanctions alone cannot solve the problem, but the "right conditions" are needed for dialogue.
China is pushing the United States to start negotiations with the North. That prospect appears unlikely as Trump grows frustrated over Beijing's level of economic pressure on the North, its wayward ally.
Moon also met with Senate leaders. There is strong congressional support for ratcheting up sanctions, including against Chinese banks and companies that deal with North Korea.
Trump and first lady Melania Trump later welcomed Moon and South Korean first lady Kim Jung-sook to the White House, where the two leaders will hold formal talks on Friday.
Moon appeared to try to break the ice early on during the dinner, telling Trump that he also suffers from "fake news" coverage, prompting laughs. Trump has used the term to describe media reports he doesn't like.
Addressing U.S. business leaders on Wednesday, Moon called for further expansion of job-creating economic ties between the allies, which adopted a free trade agreement in 2012. He even looked forward to a time when peace on the divided Korean Peninsula would open up business opportunities inside North Korea.
South Korean companies on Thursday announced plans to import more American shale gas and build new factories in the U.S. That could help fend off criticism from Trump over the U.S. trade deficit with South Korea, which totaled $17 billion last year.
__
AP writers Jill Colvin and Ken Thomas contributed to this report.