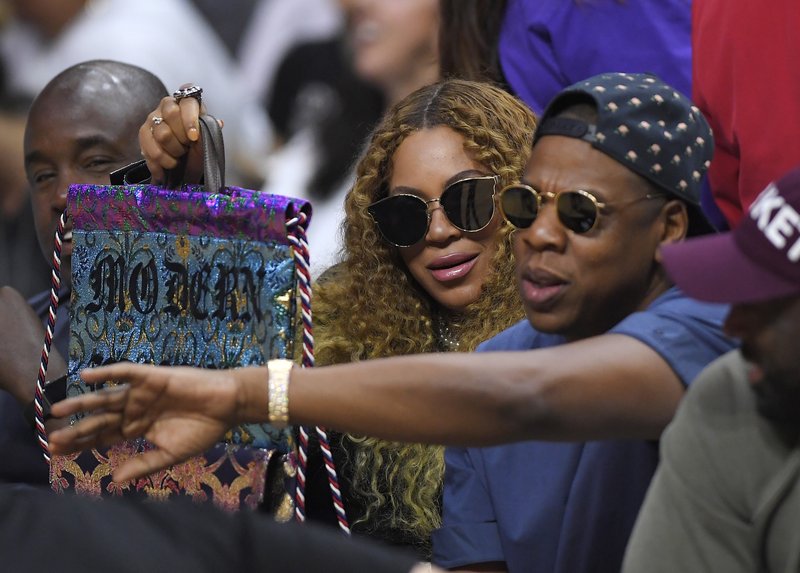 NEW YORK (AP) — Jay-Z gets personal and deep on his new album, opening up about his relationship with Beyonce, the elevator fight with Solange and his children.
The icon released "4:44" on Friday, and it quickly became a trending topic online and on social media. On the title track, he apologizes to Beyonce for some of his past decisions.
"You matured faster than me, I wasn't ready, so I apologize, I seen the innocence leave your eyes, I still mourn this death, I apologize for all the stillborns 'cause I wasn't present your body wouldn't accept it," he said.
On "Kill Jay Z," the album's opening track, the rapper addresses the elevator fight from 2014, where Beyonce's sister was caught attacking the rapper.
"You egged Solange on, knowing all along, all you had to say you was wrong," Jay-Z raps.
He also muses on the track that he almost "went Eric Benet" by letting "the baddest girl in the world get away." The line is a reference to R&B singer Eric Benet, who was divorced from actress Halle Berry after he acknowledged cheating on her. Benet responded on Twitter on Friday, writing that his current wife is "the baddest girl in the world."
Blue Ivy's voice is heard on the final track, "Legacy," and Jay-Z discusses his mother, who he says is a lesbian, on the song "Smile." She closes the track with raw and real words, ending with: "Love who you love, because life isn't guaranteed, smile."
"4:44" is Jay-Z's first since 2013′s "Magna Carta... Holy Grail." The 47-year-old references his twins on several tracks, though neither he nor Beyonce have officially commented on the births.
Beyonce sings and has writing credit on the song "Family Feud" where Jay-Z raps: "Yeah, I'll (mess) up a good thing if you let me, let me alone, Becky." It's a playoff of "Becky with the good hair" from Beyonce's hit "Sorry," from her infamous "Lemonade" album.
Jay-Z also addresses Kanye West on "Kill Jay Z," saying: "But you ain't the same, this ain't kumbaya, but you got hurt because you did cool by 'Ye, you gave him 20 million without blinking, he gave you 20 minutes onstage, (what) was he thinking?" At concerts on his tour last year, West said his kids and Blue Ivy "ain't never even played together." West also said he wanted Jay-Z to call him and "talk to me like a man."
"4:44" was produced by No I.D., who has worked with Jay-Z, Kanye West, Common and others.
Jay-Z raps about his entrepreneurship and "financial freedom" on "The Story of O.J." He said he purchased artwork for $1 million that's now worth $8 million.
"You wanna know what's more important than throwing away money at a strip club? Credit," he raps. "You ever wonder why Jewish people own all the property in America? This how they did it."
The lyrics quickly drew criticism online, including from Rolling Stone writer Brian Hiatt who called it "unfortunate" and many others on Twitter calling the line anti-Semitic.
On "Caught Their Eyes," Jay-Z raps about Prince and said he spoke to The Purple One before he died. The track also features Frank Ocean and was co-written by the R&B singer, while Damian Marley is appears on the song, "Bam."
Singer-songwriter The-Dream, who co-wrote Beyonce's "Single Ladies," Rihanna's "Umbrella" and other hits, co-wrote "Marcy Me" and has additional vocals on the song. Gospel singer Kim Burrell, who was criticized last year for a sermon in which she referred to gays and lesbians as perverted, sings on the title track.
"4:44" is available on the streaming service Tidal, which the rapper co-owns with Beyonce, Rihanna, Madonna and other stars. The album is also available to Sprint customers who sign up for Tidal (Sprint bought a 33 percent stake in the service earlier this year).
The 35-minute album, which has 10 tracks, is also available on 160 iHeartMedia radio stations.
____
AP Writer Patrick Mairs contributed to this report.