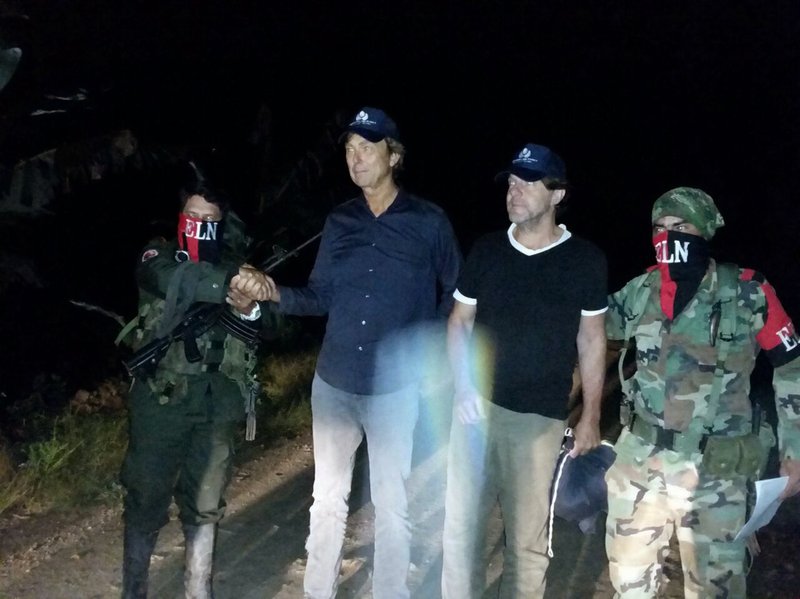 THE HAGUE, Netherlands (AP) — Two Dutch journalists have been freed unharmed after being held captive for almost a week by leftist rebels in Colombia.
Derk Bolt and Eugenio Follender were released before dawn Saturday near where they were apprehended by guerrillas belonging to the National Liberation Army. Bolt said the two are doing well and anxious to be back with their families in Europe.
In an interview with Colombia's Caracol radio, Bolt said the two men were treated well by their captors, suffering only a few scratches from 14-hour marches to evade security forces who had mounted a massive search.
He said the reporters at first thought they were being robbed because their captors demanded they turn over their cameras. Then they were shuttled from safe house to safe house before eventually taking refuge in the jungle.
"It was very hard, but the people who took us captive were very warm and treated us with lots of respect, almost like friends," Bolt told Caracol. "They always told us our lives weren't in danger."
The volatile Catatumbo region in northeast Colombia where the journalists were held is one of the country's most lawless areas, a major transit zone for drug trafficking to neighboring Venezuela and historically one of the ELN's strongholds.
Last year, the ELN held three journalists in the same region for almost a week.
Dutch Foreign Minister Bert Koenders said he spoke by phone to the journalists shortly after their release.
"Bolt was ... very relieved. They have a long journey through the jungle ahead of them. We are doing all we can to bring them back to the Netherlands as soon as possible," he said in a statement.
Bolt is host of a Dutch television show called "Spoorloos" (Without a Trace) and Follender is a cameraman for the show, which attempts to help people find their long-lost relatives.
"We are incredibly happy and relieved," the show said in a Facebook post. "We are grateful to the ministry of foreign affairs. They have done everything, in The Hague and Bogota, to get Derk and Eugenio home safely."
The ELN is Colombia's last major guerrilla army, with about 1,500 troops. This year, it joined the government for peace talks in Ecuador, bringing closer than ever the possibility of an end to a half century of political violence after the much-larger Revolutionary Armed Forces of Colombia reached a deal of its own last year to lay down its weapons.
Unlike the FARC, which has a cohesive, centralized command structure, leaders of the more ideological, Cuban revolution-inspired ELN have had trouble keeping tabs on their troops. Peace talks with the government were delayed by almost a year over the refusal of some guerrilla units to free several civilians and a politician they had been holding captive.
The ELN in a statement said the journalists were detained preventively because they had entered a conflict zone where Colombia's military often operates covertly.
"Our first duty is the preserve the life of the communities and people that enter these territories, not exposing them" to danger, members of the group said.