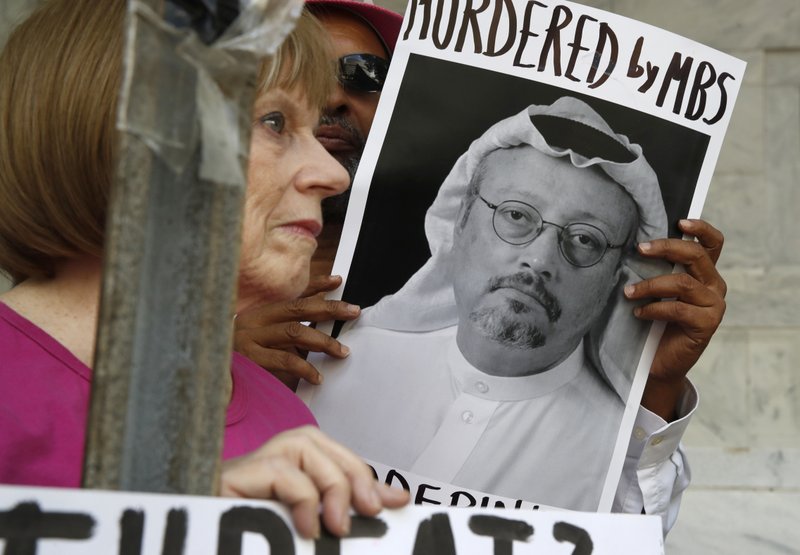 WASHINGTON (AP) — Sword dancers. Gleaming palaces. Military jets streaming red, white and blue trails.
President Donald Trump soaked up the grandeur of Saudi Arabia on his first foreign stop as president last year and envisioned huge benefits for the United States in building closer ties with the repressive and oil-rich desert kingdom.
Now, the White House relationship with Riyadh is imperiled over the mysterious disappearance of a Saudi writer, and the situation is creating friction between the Trump administration and members of Congress demanding to know if the columnist for The Washington Post was killed inside the Saudi consulate in Turkey.
Trump said he has talked to officials at the highest level of the kingdom and is "demanding everything" to explain how Jamal Khashoggi, an activist who had been critical of Saudi leaders, vanished after he walked into the consulate in Istanbul to get documents he needed to get married.
Turkish authorities claim Khashoggi, who resided in the United States, was killed by members of an elite Saudi "assassination squad." The kingdom describes the allegation as "baseless." But if Saudi Arabia is found to be complicit in his disappearance or death, the warm U.S.-Saudi relationship — and even hopes for Middle East peace — could be upended.
A senior administration official said Friday that the U.S. is in ongoing contact with Turkish and Saudi officials about the case. The U.S. believes it is essential that Turkish authorities — with full, transparent support from the Saudi government — are able to conduct a thorough investigation and officially release the results, the official said.
The official, who spoke on condition of anonymity because the official was not authorized to speak publicly, said the U.S. supports Turkish investigators' efforts, will not prejudge the outcome of the official investigation, but stands ready to assist.
Trump said Thursday the U.S. had "investigators over there and we're working with Turkey" and Saudi Arabia. But he has provided no details.
Trump has backed Crown Prince Mohammed bin Salman's ambitious campaign to modernize the conservative kingdom and its economy. Trump's son-in-law, Jared Kushner, who exchanges phone and text messages with the young crown prince, was instrumental in last year's deal to sell $110 billion in U.S. weapons to the kingdom.
But even before Khashoggi vanished, concerns were mounting in Congress over Saudi Arabia's policies and the crown prince's aggressive steps to silence his critics. And now there are calls on Capitol Hill for the U.S. to halt arms sales to the kingdom, and Khashoggi's disappearance could galvanize more opposition from lawmakers and pressure Trump to rethink his relations with Saudi Arabia.
Trump on Thursday pronounced U.S. relations with Saudi Arabia "excellent" and said he doesn't want to scuttle arms deals with Riyadh because it means tens of millions of dollars pouring into the U.S. economy. He said the kingdom would simply buy the weapons from Russia or China instead.
"If it turns out to be as bad as it might be, there are certainly other ways of handling this situation," he said without elaborating.
Much of how the U.S. responds will depend on whether evidence surfaces that proves Saudi Arabia is responsible for Khashoggi's death.
Trump will have to craft a "calibrated response," said Jon Alterman, who directs the Middle East program at the Center for Strategic and International Studies. "He doesn't like that approach. The president likes complete wins."
The close ties between the Trump White House and the kingdom were in part forged by a friendship between two young princes: Last spring, Kushner and the crown prince met formally for the first time as a late-season snow fell outside the White House.
The two men — both in their 30s, both trusted aides of older, familial leaders — struck a bond. As their countries' chief negotiators on Israeli-Palestinian peace, Kushner and the Saudi prince were both looking to make a name for themselves on the world stage and consulted with each other frequently over the following months.
Kushner championed Crown Prince Mohammed to the president and senior foreign policy officials, some of whom expressed wariness at the embrace of MBS, as he is known in diplomatic circles.
The two men's relationship also played a key role in Riyadh becoming the unlikely first stop on Trump's maiden international trip in May 2017. Trump, despite endorsing a travel ban on Muslims during his campaign, became the first U.S. president to make his official first trip to an Islamic nation.
Relations between the two countries are complex because they are entwined on energy, military, economic and intelligence issues. The Trump administration has aggressively courted the Saudis for support of its Middle East agenda to counter Iranian influence, fight extremism and forge peace between Israel and the Palestinians.
"We want to have a relationship with Saudi Arabia. They're a strategic partner. They're a mortal enemy of the Iranians. They're helping us on terrorism," said Sen. Lindsey Graham, R-S.C., a Trump supporter and top member of the Senate Foreign Relations Committee.
"Having said all that, if this did happen — and it's increasingly likely that something bad happened to this man at the hands of the Saudi government — that shows contempt for us. That's disrespectful to us. It puts people like me in a box who've been one of the leading champions of the relationship."
It's not just Graham who's in a box. It's also Trump, who has long-standing business ties to Saudi Arabia.
Jeff Prescott, who was senior director for the Middle East at the National Security Council during the Obama administration, said that a reassessment of the U.S. relationship with Saudi Arabia is overdue and that Trump should raise U.S. complaints with Saudi leaders.
"What the Trump administration has given Saudi Arabia is a green light to pursue any policy," said Prescott, now executive director of National Security Action, a group of former officials opposed to the Trump administration. "The key question is whether Republicans will have the courage to force the administration to have a reckoning of the relationship."
He said Kushner's project to forge peace between Israel and the Palestinians also could be in jeopardy.
"There is no question that a rift with Saudi Arabia — or even relations strained by pressure from Congress — would make an already bleak prospect even less likely," Prescott said.
In Congress, there is a push for sanctions under a human rights law, and lawmakers are
questioning American support
for the Saudi-led bombing campaign against Iranian-backed rebels in Yemen. The U.S. has raised concerns previously about heavy civilian casualties caused by the Saudi-led coalition fighting in Yemen.
Sen. Chris Murphy, D-Conn., voiced doubt there would be support in Congress for another arms sale to Saudi Arabia — though lawmakers haven't blocked sales before. He also called for at least a temporary halt in U.S. military support for the Saudi bombing campaign in Yemen. Murphy tweeted that if Saudi Arabia is found complicit in Khashoggi's death, it should be viewed as a "fundamental break in our relationship with Saudi Arabia."
___
Lemire reported from New York.