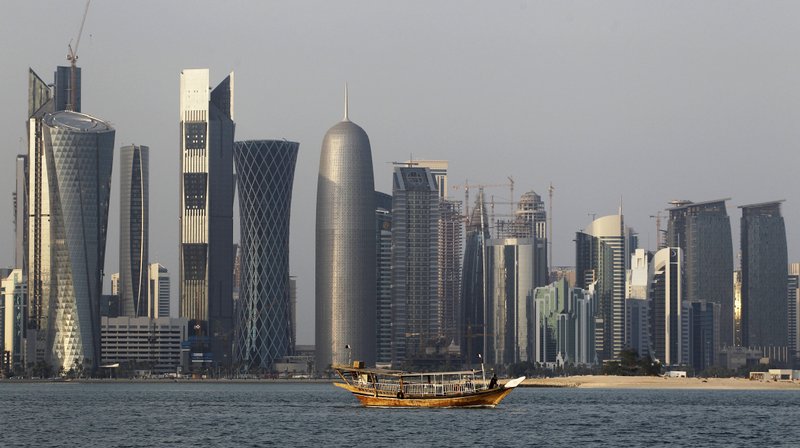 DUBAI, United Arab Emirates (AP) — Qatar likely faces a deadline this weekend to comply with a list of demands issued by Arab nations that have cut diplomatic ties to the energy-rich country, though its leaders already have dismissed the ultimatum.
Here's a look at the ongoing crisis, the worst to grip the region since Iraq's 1990 invasion of Kuwait.
___
A COUNTRY TARGETED
Qatar is a nation about the size of the U.S. state of Connecticut which juts out like a thumb on the Arabian Peninsula into the Persian Gulf. It has the highest per-capita income in the world due to its natural gas reserves, the third-largest on the planet after Russia and Iran. Just over 10 percent of its 2.2 million people are Qataris, with the rest foreign workers. Its people follow an ultraconservative form of Islam known as Wahhabism, though unlike neighboring Saudi Arabia, women can drive and foreigners can drink alcohol. Qatar will host the 2022 FIFA World Cup.
___
A WIDENING GULF
Bahrain, Egypt, Saudi Arabia and the United Arab Emirates cut ties to Qatar on June 5. They also stopped Qatar Airways flights from using their airspace, closed off the small country's sole land border with Saudi Arabia and blocked its ships from using their ports. They say the crisis stems from Qatar's support for extremist groups in the region, charges denied by Doha. The four nations have also pointed to Qatar's close relationship with Iran, with which it shares a massive offshore gas field that provides the peninsular nation its wealth.
___
A LIST OF DEMANDS
The Associated Press obtained a list of the countries' demands of Qatar on June 22. They include limiting diplomatic ties to Iran, shutting down the state-funded Al-Jazeera satellite news network and other media outlets, and severing ties to all "terrorist organizations," including the Muslim Brotherhood and Lebanon's Hezbollah. It also demanded Qatar expel the Turkish troops now stationed in the country, as well as pay reparations and submit to auditing. It gave a 10-day deadline, which likely will expire this weekend. Qatar has rejected the demands as violations of its sovereignty.
___
A DIPLOMATIC DANCE
Kuwait has sought to mediate the crisis, sending its 88-year-old emir shuttling between the countries involved. The countries have meanwhile sent emissaries abroad to brief foreign leaders and speak to journalists. The U.S., which has some 10,000 troops stationed at Qatar's sprawling al-Udeid Air Base as part of its campaign against the Islamic State group and the war in Afghanistan, also has sought to end the crisis. However, U.S. President Donald Trump has made comments seemingly supporting the Arab nations' efforts at isolating Qatar, complicating those efforts.
___
AN UNCERTAIN FUTURE
It's unclear what further steps Arab countries now isolating Qatar could take after the deadline passes. They could look at financial sanctions, though Qatari investments around the world include Harrods department store in London, Volkswagen in Germany and the company owning New York's Empire State Building. They could attempt to block Qatari shipments of liquefied natural gas, though that could spark hostilities. Qatar has yet to retaliate, but could shut down an undersea natural gas pipeline running to the United Arab Emirates, a crucial power source for a desert nation that relies on desalination plants for water and air conditioners to cope with the scorching heat.