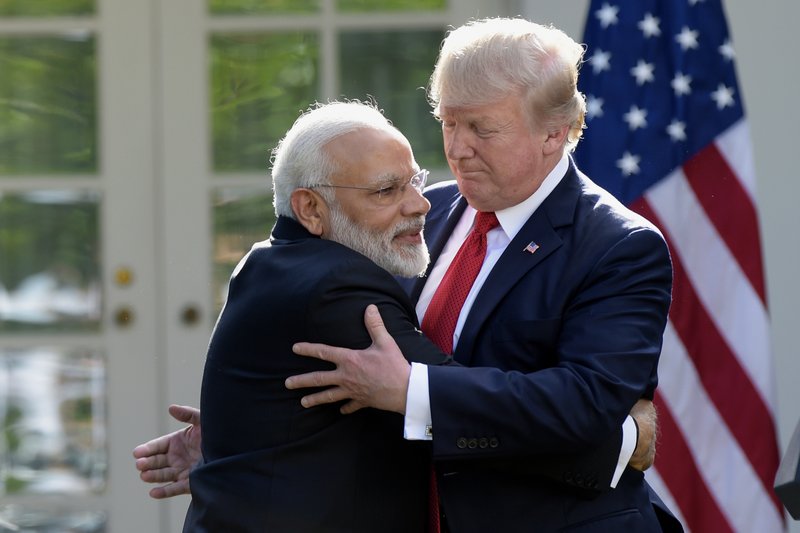 Your daily look at late-breaking news, upcoming events and the stories that will be talked about Tuesday:
1.
HOW THE SUPREME COURT RULED ON TRUMP'S TRAVEL BAN
The Supreme Court says President Donald Trump can forge ahead with a limited version of his
ban
on travel from six mostly Muslim countries. Trump hails the decision as a "victory for national security."
2.
WHAT THE CBO SAID ABOUT THE SENATE REPUBLICAN HEALTH CARE BILL
It would leave 22 million more Americans uninsured in 2026 than under President Obama's health care law, the Congressional Budget Office estimates, in a blow to GOP leaders' hopes of pushing the plan through the chamber this week.
3.
WHO GAVE TRUMP A BIG HUG
India's Prime Minister Narendra Modi went in for two big bear hugs with Trump during their joint statements in the Rose Garden. Both leaders sought to project warm relations in their first face-to-face meeting.
4.
THREE RESIGN AT CNN OVER RUSSIA STORY
The network says it has accepted the resignations of three people involved in a retracted story about a meeting between an associate of President Trump and the head of a Russian investment fund.
5.
HOW TRUMP CHALLENGES TV WRITERS
Writing TV shows based on real life in Washington has always been a challenge, but since Trump became president, writers of such series as "House of Cards" and "Veep" say their job is tougher than ever.
6.
WHY LONDON'S HIGH-RISE FIRE RAISED THE ALARM
While flammable insulating panels may have allowed the fire to engulf Grenfell Tower before firefighters could reach trapped residents, the underlying culprits are building regulations that haven't kept up with changing building materials and cuts to inspections and oversight that might have spotted the problem before the disaster, fire experts say.
7.
BAYLOR CONFIRMS NCAA INVESTIGATION
The sports body is investigating after a sex abuse scandal that led to the firing of football coach Art Briles and the departure of the school president.
8.
HOW MUCH SUPPORT FOR SAME-SEX MARRIAGE HAS SURGED
A majority of African-Americans and baby boomers are in favor of it for the first time, according to a Pew Research Center poll.
9.
WHO WISCONSIN WANTS TO STAY IN JAIL
The state is asking a federal appeals court to keep an inmate featured in the Netflix series "Making a Murderer" behind bars while the agency appeals a ruling that his confession was coerced.
10.
WHAT SERENA SAYS ABOUT MCCENROE
The tennis legend has no interest in John McEnroe's thoughts on what would happen if she tried to play on the men's tennis tour, after McEnroe says Williams would be "like 700" in the rankings if she played on the men's tour.